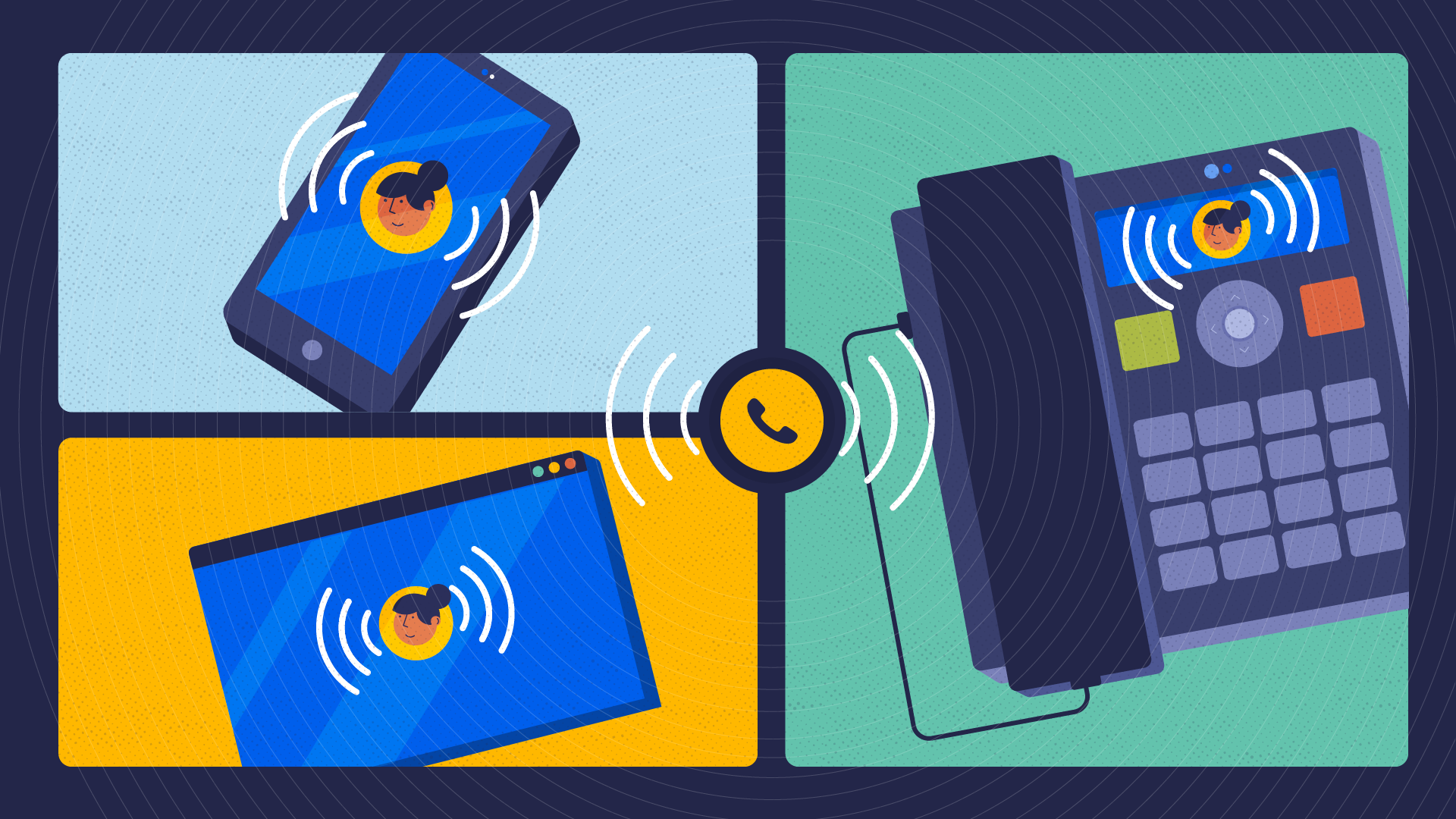 Did you know that 38 percent of companies have team members who work remotely?
Old-fashioned phone systems don't make it easy for them. Remote staff aren't in the office to take calls through a wired connection, nor do they always have guaranteed access to a desk phone.
The shift in working patterns means that businesses need a flexible phone system. 
With one, remote staff can take calls from home using a variety of devices—regardless of where they are in the world. (Similarly, customers can call your support staff without any expensive international calling charges.) 
Table of contents:
Definition: What is a virtual phone system?
A virtual phone system is a communications tool that handles your business' calls through an internet connection. 
It's different from traditional phone systems that need a brand new set of wires, cables, and desk phones. You can use the hardware you've already got. The only difference? Calls come through to a cloud-based server, instead of a physical one in your office. 
It's expected that 83% of enterprise workloads will be in the cloud this year. That's because cloud phone systems have online servers to manage and divert calls, rather than a physical server-to-desk phone connection that gets wired in. 
It's more cost-effective, and easier for remote teams, to manage their business communication with a virtual phone number.
How does a virtual phone system work?
A virtual phone system works alongside a toll-free or local phone number, giving your callers a professional greeting. It will ask what they need help with, and direct them to the most relevant person without any interruption.
You can then choose to take the call on your desk phone, or divert the call to your laptop, landline, or mobile device if you're away from the office. Your callers won't notice any difference.
You can also direct the call to another desk phone if you're busy. Or, if you miss the call entirely, you don't need to spend hours listening to voicemail recordings. 
A virtual phone system can transcribe the calls for you and send them via email. They're ready for you to comb through when you get time.
So, are 'virtual', 'off-site', 'cloud-based', 'hosted', and 'hosted PBX' the same?
The short answer: Yes. 
Each of those terms mean your phone system is powered in the cloud, rather than your workplace. Incoming calls can go to a desk phone, laptop, or mobile device. Calls aren't directed to a single wired-in desk phone.
However, there are some differences between them:
| Phone System | Overview |
| --- | --- |
| Virtual | Phone services are exclusively managed over the internet and on-demand as needs arise. |
| Cloud-Based | Centrally managed phone service for on-site devices like desk phones over the internet. |
| Private Cloud | A private version of virtualized cloud phone service on servers that provide phone service to devices. |
| Hosted | Phone service is provided to wired desk phones and softphones in a centrally managed way. |
| On-Premises PBX | A classic office phone system that uses trunked telephone lines or PRI data lines for voice service. |
Advantages of using a virtual phone system
There are tons of business phone systems to choose from. Here's what makes a virtual phone system so special.
1. Easy setup
One of the biggest advantages of a virtual phone system is that it's easier to set-up than a traditional wired solution.
The latter disrupts your entire office. You'll need to wait for an engineer to install the connections—a slot which could be weeks away. Your team is unable to take calls during that time; they'll need to wait whilst the hardware is being installed. 
But a virtual phone system is cloud-based. You don't need to wait for an engineer to install the hardware, nor interrupt your office during that installation. 
Your virtual phone service provider can do it remotely, sending a simple list of instructions that show you how to use it.
Related: Need Help Working Remotely? Here are 17 Best Practices
2. Low-cost
Pricing for a standard office phone system is confusing, and a basic package is exactly that: Basic. 
You don't get important features that your team will need without adding tons of extra charges to your phone bill.
Take call centers, for example. The largest call centers can have hundreds of agents working inside; each of which need devices that allow them to take calls. The costs for maintaining that communications system can become expensive—fast. 
However, you can build a low-cost virtual call center inclusive of important features, such as:
Auto-attendants and custom greetings that give information to callers (such as your business hours)
Hold music to keep callers on the line
Call routing to direct customers to the next available support agent
Call forwarding to pass the customer onto another department
Logs to view the date, time, and person making a call
Managed caller ID to keep your staff's personal cell number private
Call recording for staff training purposes
International calling without expensive rates
All of these features make a virtual phone system a superb option for any size. It's cheap enough for small business owners to pay for. Plus, it contains every feature a larger business would ever need.
Related: 14 Reasons Why Your Business Needs a SaaS Call Center in 2020
3. Flexible VoIP numbers
Remote staff aren't always guaranteed to have a reliable business phone service. 
They can be in rural locations, or places that have thousands of people trying to use the same connection—like in an airport, for example. That makes it difficult for them to take cellular calls. (In the worst case, it could also lead to phone calls being cut short.) 
However, a virtual phone system works across both cellular and VoIP (Voice Over I
nternet Protocol) connections. Your remote team can accept calls through an internet connection with a special VoIP phone number. They just need Wi-Fi or 4G access.
Remote staff also don't need a business device to take their calls. Virtual phone systems can protect their caller ID, meaning they can make and receive business calls without revealing their personal number. They just need one device and an internet connection.
4. Device-agnostic
Wired phone systems only allow your staff to take calls through a phone that's wired to their desk. 
However, virtual phone systems are device-agnostic. This means you can take calls from any device, rather than a desk phone. That includes your:
Laptop or PC
Tablet
Wireless VoIP headset
Android or Apple smartphone (through a mobile app)
Softphone
The best part? Our research has shown that 59 percent of business professionals are already using at least three devices while at work. A virtual phone system can be used on all of them. You don't need to purchase any additional equipment, nor be tied to a desk, to take cloud-hosted calls. It syncs with the hardware you've already got access to.
5. Route calls anywhere
Let's say you've got a team of eight. Half of them work in your office, two work remotely full-time, and the other two are mobile. They attend in-person meetings with clients all over the country.
A traditional, wired phone system would make it difficult for all eight employees to take business phone calls. 
Granted, the in-office team would be able to take calls from their desk phone. But those outside of the office would need to take business calls using a mobile number. That can be expensive—especially if either the caller or your team member is in another country.  
A virtual phone system stops all of those problems. Ask customers to call you via a toll-free number. They won't need to remember local numbers or area codes to reach a specific person. 
Those incoming calls are processed by a cloud-based server, which directs the calls to your team. It doesn't matter which device your team is using, nor where they're located. They get the call to any device just like a standard wired connection. 
Read more: Telecommuting Technology: The Essential Toolkit for Remote Work
6. Easier to measure team performance
We've touched on the fact that a virtual phone system offers more features than a traditional one. One of those is in-depth reporting and analytics, which means you can see which sales/support rep:
Spends most time on the phone
Answers the phone in the shortest amount of time
Has the same person calling to report the same issue 
Each of these reports help measure team performance. That's especially useful if you're managing tens of call center agents. Your one-on-one performance reviews can be backed-up by data. You don't need to manually keep track of their time, nor feel like a micromanager by asking them to use time-tracking software. 
And, the best part: You can access this data via the internet. You can view real-time reports and call analytics through an internet connection on any device.
Related: Call Center Technology and Trends Every Business Leader Must Know in 2020
7. Collaborative workforce
You know the feeling: You've called a business' line to ask a support-related question. But after waiting for the connection, you hear the dreaded "welcome to voicemail, please record your message." 
It's frustrating, right? You don't want to give the same impression to customers dialing your business phone number. That's where a virtual phone system comes in handy.
If you're unable to take a call, you don't have to send that person to voicemail. You'll have an option to forward that call to a co-worker with availability. (Most virtual phone systems have a busy lamp status that shows whether you're busy or available.)
This helps with conferencing, too. You can ask everyone to use their VoIP connection to join your call. Some hardwired systems don't offer this feature.
This gives a collaborative approach to business communication. You're working as a team to pick-up all incoming calls. It's easier to stop people from being sent to voicemail if your desk phone connection is already occupied.
Buyer's checklist: Is a virtual phone system right for you?
Wondering whether a virtual phone system could replace your old-fashioned wired system?
We already know that a virtual system offers more benefits than a wired one. But if you're still undecided, take a look at this buyer's checklist. 
If you fit the below criteria, it's worth switching to a virtual phone system:
You're paying too much for a wired phone system (especially if you have a call center)
Existing wired phone system is too slow or cuts out, and you often wait days for an engineer to fix it
Have staff working remotely (even if your entire team isn't remote)
Some staff take calls at home or on their commute
You're currently using tools like WhatsApp, Google Voice or Google Hangouts to take business calls
You need several people on the same conferencing call, but your existing phone set-up doesn't allow it
Nextiva's virtual phone system: pricing + getting started
Long gone are the days of using a wired phone system. With working habits changing, and businesses needing more features from their calling software, a cloud-based system is the way forward.
It doesn't matter whether you're running large-scale call center campaigns, or just need to give your small business' staff the equipment to work remotely. 
Nextiva offers a cloud phone system package to help. They include virtual phone numbers for your team, starting from just $20 per month, per user. 
That's a small price to pay for one of the best virtual phone systems that will benefit both your team and your customers.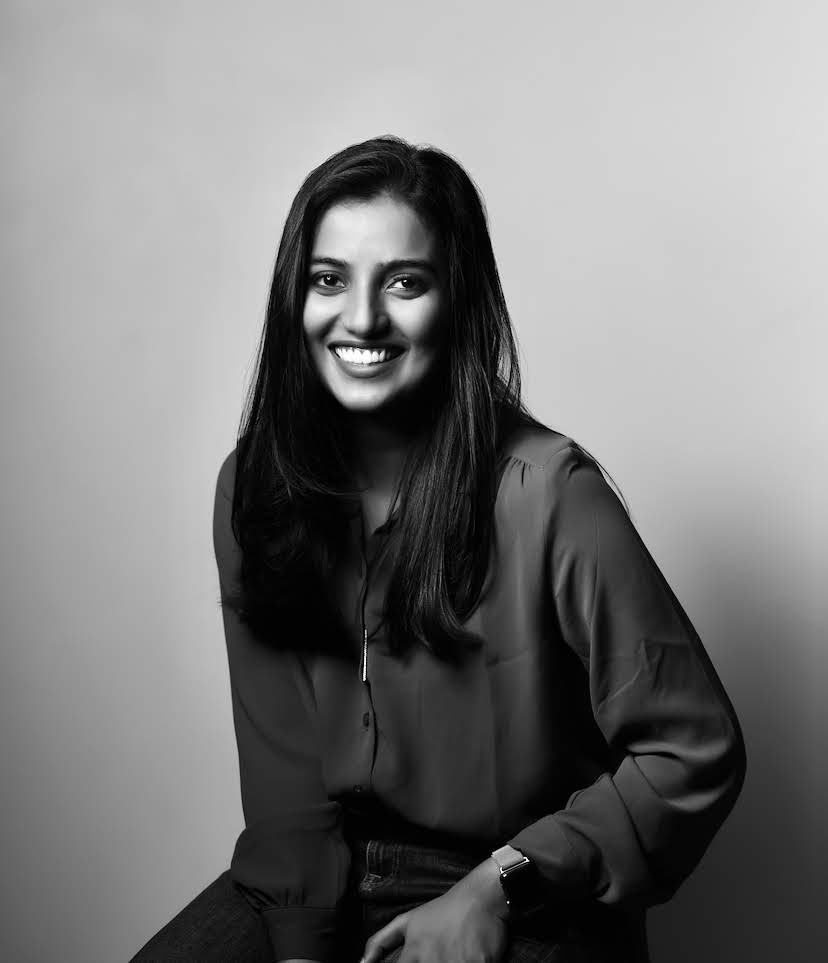 As the SEO & Content Lead at Nextiva, Alina combines her expert skills in content strategy, SEO, conversion optimization, and copywriting to drive more high-intent organic traffic. Top brands she has worked with include Sales Hacker, Outreach.io, and Freshworks.