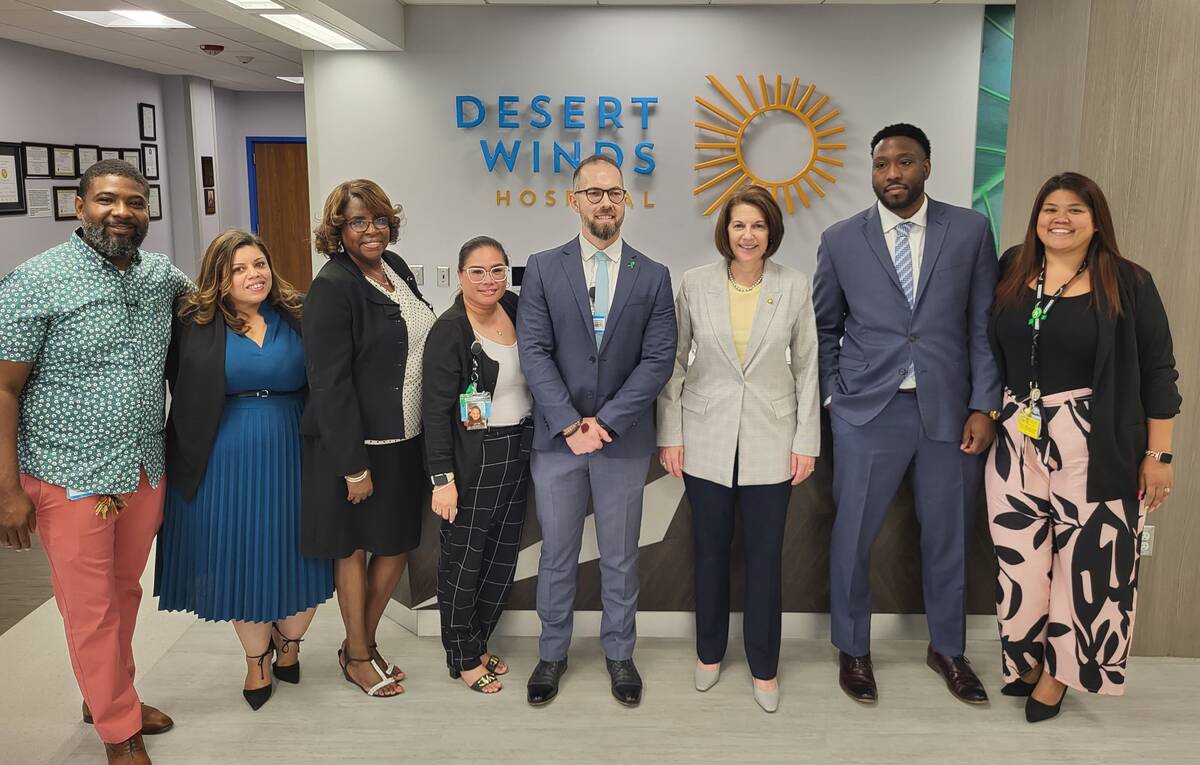 Nevada Sen. Catherine Cortez Masto took a tour through the mental health facilities of Desert Winds Hospital on Thursday before the hospital opens its facilities to adults starting later this month.
As Desert Winds representatives led Cortez Masto through the Spring Valley hospital, they talked about what services they provide to patients, how they go about treatment and how to better treat mental health in the Las Vegas community.
After the tour, Cortez Masto highlighted her work on the Senate Finance Committee in securing funding for mental health resources. She said her work going forward is focused on breaking down the stigma surrounding mental health and ensuring that the state has enough mental health professionals for when people need support.
"I think it's continuing to make sure that again, at the end of the day, we have the resources here in our state when we need it," Cortez Masto said.
Desert Winds Hospital personnel said the senator's visit gave them hope that governmental bodies will continue to give mental health institutions more support, which staff said they sorely need.
"I was impressed by the senator coming in, and to see that she's focused, and that she's putting her hand on the pulse. It really warms my heart," Kenneth Holland, a hospital director, said.
Desert Winds Hospital CEO Lloyd Noble said the senator's visit was a good start, and he wants to see more investment from public officials.
"My goal is to see more of this, but also to have senators and different federal officers really partner with facilities like us to meet the needs of the community," Noble said.
More mental health services added
Hospital staff took Cortez Masto through some of the hospital's upcoming facilities on her tour. Desert Winds will add 94 beds to its existing facilities to start offering mental health services to adults on July 17, in addition to the youth ages 12 to 17 already served by the institution.
Holland said the hospital treats its patients with a multiphase program that starts by educating them, encouraging them to take accountability and eventually releasing them in the final phase, which the hospital dubs "soaring." Desert Winds offers personalized care formed to best help each patient, taking their preferences, needs, habits and hobbies into account.
According to the Desert Winds website, the hospital accepts most major insurance plans and in- and out-of-state Medicaid. However, Holland said Desert Winds will not turn down anyone 12 or older when they come to them asking for help, regardless of medical coverage.
Cortez Masto and Desert Winds representatives said an important part of giving mental health support to the community is removing the current negative stigma associated with it.
Holland said the community should acknowledge trauma and mental health issues as problems that affect everyone.
"Trauma is real," he said. "I need people to know that mental health is a disease, and it's not something that people ask for, and it affects everybody."
Contact Mark Credico at m[email protected]. Follow him on Instagram @writermark2.