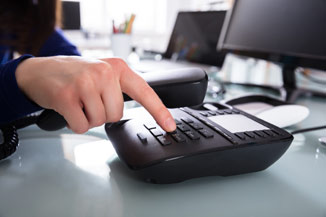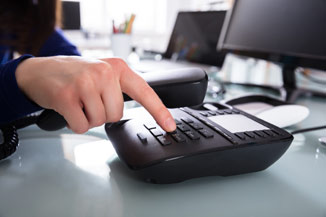 These small business PBX phone systems are the best in their category for 2020. Different types of businesses require distinctly different phone systems. Although hosted VoIP or a cloud based phone system is the preferred solution for many, offering lower initial costs, advanced feature sets with easy installation and self management, some businesses find that they need a hybrid on-premise PBX solution that can be installed with their existing cabling and connect to a T1/PRI circuit. Other small companies just want a good quality durable phone system to use with their existing phone lines, be reasonable in price and has an attendant, voicemail and is easy to park, page and transfer calls. Some others want an affordable system on premise that they can manage themselves. Whichever category your company may fall into, here are the top picks for both a cloud based PBX and a premise PBX for 2020.
Three of our top choices are award winning cloud based PBX systems from established hosted VoIP providers. All are well tested with thousands of customers getting high marks in overall satisfaction. RingCentral Office and Vonage Business are great choices for any size business, from a 7 phone small business to a 100 plus person multi-location organization. On the other hand, Grasshopper's virtual phone system is a stand-out with an entirely different platform, which was designed for the entrepreneur or micro-business.
Our other three choices are all on premise PBX systems, each earning a top choice for a particular business situation. Ayaya's IP Office has been a worldwide go to solution for many years delivering outstanding features and reliability from a more traditional IP-PBX that can solve more complex needs. The award winning Grandstream UCM6200 series IP-PBX delivers robust features without license fees that can be managed in house with support from the manufacturer. And the NEC DSX-40 brings a solid small digital phone system that can connect to regular phone lines with just enough of the important features that they have been chosen by numerous businesses for their durability and lasting performance.
Best Cloud PBX Companies 2020

RingCentral is a multi-award winning cloud PBX provider that is great for any size company. With four excellent plans to choose from users can get just the right package of features without having to pay for those that they do not need. RingCentral touts their service as affordable, simple to set up, manage and use and with each, they succeed. It's well designed with advanced features that include call recording, video conferencing, and Internet fax and integrates with most CRM software packages. By cutting down on vendors and using RingCentral services for multiple needs, not only will it simplify every businesses' communications, it saves on additional expenses. (more at RingCentral Review)
Best For:
One provider for advanced features with multiple communications platforms.
Pros
Reliable with excellent easy to choose feature rich plans.
Top choice for offices, small contact centers, professional services, multi-location businesses, sales organizations.
Great service for remote workers.
Easy quick setup with included customer service and support.
Cons
Must pay yearly for the best price.

Vonage  Business Cloud, offers unified communications to connect from anywhere through voice, chat, text messaging or video. Their service brings a robust set of features for small to medium sized businesses. Their services are broken into a three tier pricing model, Mobile, Premium and Advanced, with each plan having their own set of features, although certain features like Call recording and Visual Voicemail requires the top plan. Vonage has worked on app Integration with its service and brings an impressive list of popular business applications that will work.
Best For:
Scalable custom platform as business needs grow.
Pros
Numerous CRM integrations.
Great for a wide array of businesses including insurance, law firms, healthcare, real estate, and retail companies.
Highly competitive flexible plans where the greater number of lines lowers the cost.
Cons
Cumbersome to determine exact pricing without talking with a representative.
Adding extra features can increase costs.
Grasshopper virtual phone service is designed for very small micro businesses or entrepreneurs. Integrated to deliver big PBX basic features without even the need to spend money on a traditional IP desk phone, it's a service that can be up and operating in an hour. Using your smart phone, you'll get your own business number with ways of keeping your business customers distinct. Their service ensures that you can make and receive business calls and texts from anywhere using their app. Handle multiple business calls distinctly with automated professional greetings, call forwarding, and voicemail transcription. For those that fall into the right category (a micro business) Grasshopper is an affordable well designed phone service that will take a business to a "bigger" and more professional level. (more at Grasshopper Review)
Best For:
On the go micro-businesses.
Pros
Lots of features that are easy to setup.
Excellent for very small companies or business entrepreneurs; real estate agents, food trucks, landscapers, home inspectors, appraisers, etc..
Cons
Getting the best price requires an annual payment.
Requires an existing phone service of some sort (mobile or landline).
Best On Premise PBXs 2020
Avaya's IP Office, one of the world's most popular hybrid UC IP-PBXs, is an extremely flexible and totally scalable solution. The Basic Edition, which can handle up to 100 users, has voice mail, message to email conversion, call forwarding, audio conferencing, and as automated attendant. From there Avaya offers enhancements with both on premise and cloud based services for a total business Unified Communications platform. Being a hybrid IP-PBX, businesses get a flexible deployment allowing for the use of digital phones where older cabling may exist while still incorporating IP phones in offices. Connect through any type of service; FXO, SIP and T1/PRI.
Best For:
Hybrid deployment connected to T1/PRI.
Pros
Hybrid IP-PBX phone system that's totally scalable.
Great for medical, retail, existing mixed use facilities, office/manufacturing, engineering, industrial.
Well tested with deployments worldwide. Onsite signaling.
Cons
Requires an Avaya phone technician.
Requires proprietary digital phones and specific IP phones.
License fees for additional or new features.
Grandstream UCM 6202 VoIP IP-PBX is an excellent appliance that gives the benefits of VoIP, such as multiple SIP trunk connections, no license fees, affordability and a management GUI that is intuitive and well designed, to name just a few. Two FXO ports are built in for those that want failover using one or two traditional phone lines.
You can choose almost any IP phones as all are fairly easy to configure, however Yealink phones will be matched the best. With the available help and guidance from Grandstream the UCM series VoIP PBX is one of the few that allow for a tech savvy IT person to self management and install.
Best For:
On premise IP-PBX for self management.
Pros
Feature rich VoIP ready IP-PBX without license fees.
More control and personal customization. Onsite signaling.
Excellent choice for offices, manufacturing facilities, hospitality, small contact centers, etc..
Good choice for in house management.
Cons
Need to ensure someone has the capabilities to manage the system.
The NEC DSX-40 with IntraMail has built a reputation of being an affordable and reliable digital PBX business phone solution for companies that want to keep their existing telephone lines. Good for up to 8 incoming lines, the DSX-40 is capable of handling up to 24 stylish digital telephone stations. Durability and intuitive operation are the hall marks of the desk phones with either a 22 or a 34 button model available. With lots of standard features including an Attendant, Directory Dialing, Message on Hold, and Conversation Record most small businesses will find the DSX-40 just enough with an affordable price. Once installed and setup this system will operate for years without any need for service. In June 2019 NEC ended support for all DSX products, however they will remain a popular small PBX for years to come and systems are readily available refurbished from many installers and suppliers.
Best For:
Small businesses that want to connect to traditional business telephone lines and/or have poor Internet service.
Pros
Well tested, many deployed. Does not require Internet.
Capable of using SIP trunks for low cost VoIP.
Best for small companies that want to keep their existing telephone lines; mixed business office/warehouse, manufacturing facilities, warehouses, parts stores, etc..
Cons
Requires a phone technician for installation and changes.
Limited advanced features; digital phone system
Requires proprietary digital phones.
Conclusion
Our six PBX choices all offer an outstanding phone system for a particular business situation. Each of our three hosted VoIP picks are established providers and should continue to advance their platform and offer new advanced features as they are developed. The number of companies choosing cloud based services have accelerated and that trend will continue as initial costs are low and overall value very high.
Grasshopper now offers a 7 day,
no commitment trial.
Trying Grasshopper is easy!
The three best on premise PBX systems are excellent choices given particular needs or circumstances (as noted), and have proven to be stable, robust systems. For those that want control and the ability to self install and manage their own VoIP phone system, the UCM6200 series appliance is a top choice with a great feature set and an intuitive GUI.
With so many phone system choices it's easy to get overwhelmed. Not all systems are right for everyone. A telecom professional can guide you to the best solution.
Want to streamline the process and get competitive Tailored quotes for the best business phone system?
Just complete a few questions in the form. It only takes 2 minutes.
Best Cloud Based Phone Service   Best On premise PBX System
Related Articles
Find out which are best cloud PBX phone companies. These are the top rated hosted VoIP providers: Best Cloud PBX Companies
Keeping with transparency; when visitors purchase products and/or services discussed on our site through onsite affiliate links or ads, we usually then earn affiliate commissions.