Are you looking for a project management tool that can help you manage your projects and team members in a better manner?
If the answer to the above question is yes, then you've come to the right place. It won't be wrong to say that adopting new methodologies, implementing new technologies and tools has become the need of the hour to boost your standing in the current scenario
We have compiled the best project management tools to improve your game. Before we take a look at them, let's understand why it's important to use them in the first place.
Table of Contents
What is a project management tool?
A project management tool is what brings projects and team collaboration at one place for everyone to be on the same page.
Why should we use project management tools?
You might be living under a rock if you're really not aware of the benefits that come along with project management tools. We've outlined some common benefits below:
Faster collaboration
Easier delegation
Accurate project tracking
Central data storage
Seamless communication
Quick file-sharing
Time tracking
Automated invoicing
Quick reporting
Now that you know the advantages offered by online project management tools, let's learn how to choose the right one.
How to select the best online project management tool?
Make sure to check if your preferred project management software offers the following features or not.
Advanced feature-set
Intuitive user interface
Cloud-based access
Customizability
Security
Integrations
Cost-effective
Best Project Management Tools & Software in 2020
ProofHub is a versatile project management software used by leading organizations like NASA, Disney, Taco Bell and many more. This all-in-one tool comes packed with powerful features to eliminate the need of having too many different tools to run your business.
Features:
Online proofing software saves a lot of time during the feedback-sharing process
Makes task-management less stressful for teams
Get a visual picture of projects using Gantt charts in ProofHub
Also available as a mobile app for Android and iOS users.
See how ProofHub is the best of all project management tools. Try now!
2. Scoro
Scoro is known as one of the most comprehensive business management software for professional and creative services. For those who wish to bring structure to your work, Scoro is the right pm tool for you.
Features:
A single place for projects, clients, and teams
Be organized in every aspect of your business with seamless workflow
Get a real-time overview and automated reports
Can be integrated with tools like DropBox, Mailchimp, Outlook, and more
Pricing: Premium plan starts at $33/user/month
3. Workzone

Workzone is built by a highly dedicated team to help individuals and organizations gain better control and visibility in work management. It gives them a central place to manage and share work, so everyone stays on the same page.
Features:
Get top-level reports so everyone knows what's next on the list
Makes way for faster communication
Features like creating tasks, to-do lists, sharing files easily improves collaboration
Set permission for different users including clients
Pricing: Starts from $200 per month
4. Zoho Projects
Without a doubt, Zoho Projects stands out as one of the best simple project management software that can help you streamline your upcoming work and tasks with a click.
Features:
Effective file management
Gantt charts to oversee project progress
One tool for teams to create, collaborate, and communicate
Can be integrated with ZOHO CRM and other tools to manage every aspect of a growing agency
Pricing:$25/month for up to 20 projects
Read on: Zoho Alternatives – 13 Tools Your Team Will Love
5. GanttPRO
GanttPRO is one of the best pm software, appreciated already by 250k project managers around the globe. It helps build project plans and timelines, track workflow, control expenses,  follow deadlines, and arrange productive collaboration in a single place. The solution offers ready-made templates for an easy start.
Features:
Workload: keep all resources engaged and balanced
Collaboration: comments, attachments, and notifications
Workspace: Gantt charts and Board view
Project templates for easy start
Pricing: Team plan starts from 7.90$ per user/month (billed annually)
6. nTask
New on the market, nTask is still in its burgeoning state of development, with new features and AI that are being introduced as the tool matures. Its intuitive software design that is easy on the eyes as well as easy to adopt, is one of the many reasons why start-ups, solopreneurs, and even enterprises will readily switch to this newcomer pm tool.
Features
Task & Project Management: Simple task & project creation using task checklists, updates, progress meter.
Risk Management: Use risk matrix to identify and assess potential risks and their frequency of occurrence.
Issue Management: Create and manage issues with customizable severity, priority, and status options.
Time Management: Beautifully designed weekly timesheets with manual hours linked to a suitable task or a project.
Resource Management – Manage resource allocation, project budget and currency using the Project Planner.
Meeting Management – Schedule multiple meetings at a time with a clear concise agenda, discussion points and follow-up actions
Pricing
Free plan- Unlimited workspaces, 100MB storage.
Pro Plan – $2.99, Unlimited everything.
7. Functionfox
Functionfox is a timesheet tool trusted by creative professionals all around the world. It is both powerful and easy-to-use. You can track your projects accurately from conceptualization to completion, reduce admin time, and increase productivity and profits.
Features:
Simple project creation and management
Interactive real-time reporting
Compare budget estimates with actual figures
Pricing: From $5 user/month ($35/month for the 1st user)
8. Workbook

Workbook is a grown-up software suite for project and resource management, CRM, collaboration, file-sharing, forecasting, and accounting. You can choose exactly as per your requirements and only pay for it.
Features:
Create projects and tasks easily
Easily customizable
Supports a client portal
Pricing: $19 user/month, minimum 30 users
9. Redbooth

Redbooth is an easy-to-use online task and pm software for busy
teams. Moreover, you can keep your entire team organized, in alignment, and always on schedule with Redbooth.
Features:
Intuitive task and project management
Easily delegate and assign tasks
Mobile apps for iOS and Android
Pricing: From $5 user/month
10. Celoxis
Celoxis is an award winning all-in-one pm tool. It helps organizations to plan and track their portfolios, projects, tasks, resources, timesheets, issues and risks from one place. It has extensive collaboration features including a customizable free client portal. It's dashboards and reporting capabilities are superb and one of the best in the market. It is feature rich, intuitive and highly customizable.
If you are comfortable with the Microsoft Project scheduling paradigm, Celoxis is one of the best alternatives to microsoft project.
Features:
All-in-one project management tool
Easy collaboration, share files, discuss and exchange comments not just with your colleagues but with your clients
360-degree real-time insights with our super powerful reports and dashboards
Easy to customize and intuitive
Easily allocate resources to tasks based on availability, demand, and skills.
Pricing: SaaS: $25/user/month & On-Premise: $450/user
11. 10,000FT Plans
10,000ft is a simple yet powerful pm software that helps you make confident operational decisions about your teams and projects. Apart from this, it has resource management and time-tracking capabilities as well.
Features:
An effective visual resource planning software
Detailed project tracking
Flexible planning interface
Pricing: Basic plan starts from $10/month
12. TeamGantt

TeamGantt is a refreshing pm solution that brings project scheduling software online. You can manage projects with this super-easy Gantt software. Inviting your co-workers, teammates, and friends to view and edit your Gantt chart is simple and fun!
Features:
Fast drag and drop scheduling
Intuitive and easy-to-use
Real-time progress updates
Pricing: Standard plan starts from $7.90 /user per month (when billed annually)
Switch to a reliable project management software to deliver projects successfully. Try ProofHub
13. Proworkflow

Proworkflow is one of those project management software your teams would love. It's beautiful, versatile and extremely easy to use. Also, it integrates with all the tools you need – saving you time and streamlining your processes.
Features:
Makes it a breeze to assign staff, track time or reschedule projects
Quoting and invoicing have never been simpler.
Reliable support and consultation
Pricing: From $22 month/user for team
14. Mavenlink

Mavenlink is a modern software designed for services organizations to connect with people, projects, and make profits. In a world where connectedness, transparency, and performance matter more than ever, Mavenlink helps you deliver projects successfully.
Features:
Manage multiple projects with ease
Handle project schedules in an intuitive interface
Gain visibility of all your projects in your portfolio
Pricing: Professional plan starts at $39/month/user
Read more: Mavenlink Alternatives and Competitors: Top 7 Tools You Should Try in 2020
15. Insightly
Insightly is a powerful CRM with a project and business management set. It allows you to grow your business faster than ever by building strong customer relationships over time.
Features:
Effortless tracking of project activity
Accelerate sales and manage leads
Helps you build meaningful relationships
Pricing: From $15 month/user for teams
16. Clarizen

If you are looking for a cloud-based project management tool to help your business grow, Clarizen can come to your rescue. It is a single collaborative pm solution that could manage projects and help you connect with team members effortlessly.
Features:
Automated processes and workflows
Budget tracking and expense management
Flexible UI
Pricing: From $60 user/month
17. Comindware

Comindware is a popular workflow and business process management software. The workflow management software provides key capabilities for task, data and document management.
Features:
Focuses on process optimization
Customer order management and CRM capabilities
Full process automation, activity monitoring, business analytics as well as enterprise system integration.
Pricing: Starts at $29.99 per user
18. Easy Project
Easy Project is a professional project management tool for you, your team, and the whole company. Trusted by top-notch companies like Toyota, Lenovo, Bosch, it is a perfect fit for numerous industries be it IT or educational.
Features:
Visual project maps and plans
Compatible with modules for Resources, Finances, Help Desk and CRM
Integrated with Outlook, Project, Excel, Redmine
Pricing: $21/month per user Pro plan (60 portfolios, and 100 custom fields)
19. Crocagile
Crocagile is a simple agile project workspace designed to streamline communication and is focussed towards software development teams. It's powerful pm tools and simple design is uniquely engineered for agile developers. It has all good stuff including collaboration and gamification feature giving a much-needed boost to agile practices with cutting-edge technology.
Features:
Activity Streams, Smart Alerts, and Group Chat to eliminate email
Team member updates are visible in one place, automatically
File Sharing – Store and Share files with commenting
Pricing: Starting from $2.50 per user, per month with the 30-day free trial.
20. Producteev
Producteev has been a task management solution for small and medium-sized teams. Project managers can easily access all their projects, tasks and other collaborators. With this pm tool you can easily plan any projects, map your route, organize files, delegate tasks, and various elements. Users can easily track the progress of each task.
Features:
Organize on your fingertips
Powerful collaboration
Seamless tracking
Interface customization
Personalized support
Pricing: The Premium plan is available at $99 per month
21. Teamdeck
Teamdeck offers a complete solution for companies to deliver projects faster. It is an essential pm software for managing resources and monitoring time spent on tasks and projects. With Teamdeck you can book your employees on different projects and create accurate timesheets with one-click time tracking.
Features:
Resource scheduling
Timesheets and time tracking
Leave management
Measure billable time
Pricing: Free startup plan limited to 6 team members. Business plan starts from $3.99 / team member / month, $1 / basic resource / month
22. Smartsheet
Smartsheet is a portable project management software to help teams collaborate, time-tracking, reporting, resource management, and planning tasks. The cloud-based software has some amazing features that brings it on the list of best project management tools.
Features:
Leverage team collaboration
Automatic update requests
File attachment from Google Drive, Onedrive, Dropbox and more
Gain visibility into who's busy and who's not
Secure permission control
Pricing: Individual plan starts $14 and business plan at $25 per user per month when billed annually.
Read more: Best Smartsheet Alternatives & Competitors for Work Management
23. Freedcamp
This is an extremely simple and intuitive tool for large organizations including architecture, interior design, IT services, retail, telecommunication and many more. Freedcamp offer functionality to unlimited users making organizing details and tasks quick and super easy.
Features:
Gantt chart to keep a bird's eye view on tasks
Split large tasks into smaller subtasks
3rd party integrations
Password manager
Shared file management
Pricing: Available at $3.99 for the owner and $0.99 for each additional user per month ( billed yearly )
24. Hive

Hive's powerful project management and collaboration software put the needs of a team at a single place. The system lets you track project status, provide a Kanban-style status view, Gantt charts for project progress, and everything that a project team needs on a single page.
Features:
Provides a central platform for everything
Plan and repeat tasks using action templates
Move seamlessly between projects, messages, and files
Access anywhere from a desktop or mobile apps
100
0+ integrations
Price: Professional plan at  $12/user/month
25. Freshdesk
Freshdesk is a pm software with a comprehensive set of tools to help businesses support the need of customers. It's simple to set up and offers the best value for money.
Features:
Integrated Live Chat, Phone Support, and Game Mechanics
High customizability
Multi-channel, multi-product and multi-lingual support
Great email messaging and self-service portals
Keep track of conversations
Resolve issues together through collaboration
Pricing: Freshdesk offers four price points for various business sizes. You can sign up for Freshdesk free trial.
26. Flock
Flock is every team's collaboration hub. Packed with tons of productivity features, Flock is a messaging and communication tool for project management. It drives efficiency and boosts the speed of execution.
Features:
Collaboration in real time
Jump into video calls with just a click
Share all types of files and find them easily
Invite guests to work with you
Create notes and collaborate with teams on the go
Share code snippets on the go
Access your entire Google Drive from within Flock
Manage your GitHub repos without switching tabs
Pricing: Flock offers monthly and yearly billing. Pro plan starts at ₹ 149 per licensed user, per month billed annually (₹199 billed monthly).
27. LiquidPlanner
LiquidPlanner is a collaboration tool that combines project management and time-tracking. It has an interesting methodology for project management as it lets teams set realistic deadlines based on different scenarios.
Features:
A realistic range of time to complete tasks
Integrated time and budget tracking
Task-specific collaboration boards
Adding notes to projects
Cross-project visibility
Pricing: From $39 user/month, billed annually
28. CoSchedule
CoSchedule is an intuitive marketing project management tool that's made to help marketers keep their work organized. It improves company visibility by simplifying all project workflows inside one cross-functional calendar. The possibilities of creation are now endless by being able to view all projects, tasks, deadlines, and ship dates in one place.
Features:
Complete more work by streamlining marketing workflows.
View, manage and approve all projects and tasks in one place with Marketing Campaigns and Marketing Projects.
Visualize project progress from start to finish more easily with Kanban Project Dashboard.
Pricing: Pricing begins at $20 a month and scales up to accommodate teams of all sizes.
29. MoneyPenny.me
The MoneyPenny Project Time Tracker is a smart and professional suite of online pm tools that
keeps projects and teams organized. By live-monitoring team performance against project deadlines, tasks, and budgets, businesses of any size can save more time and streamline
workflows.
Features:
Auto timesheet creation, management, and approval on the cloud, from any device
Full data integration, live synced online with invoicing, project tracking and team timers
Project progress live notifications and instant messaging team communication
Pricing: After the 30-day free trial, from $15/month/1 user (Starter plan) up to $55/month for 30 users (Enterprise plan).
30. Basecamp
Basecamp is one of the most popular online pm tool today. It combines all the necessary features at one place helping project members to know what to do and make sure nothing slips through the cracks.
Features:
Message boards, schedules, to-do lists
Document and file storage
Easy-to-use and simple interface
Tag team members easily
Pricing: $99/month.
Read on: Top 21 Basecamp Alternatives for Project Management
31. Monday.com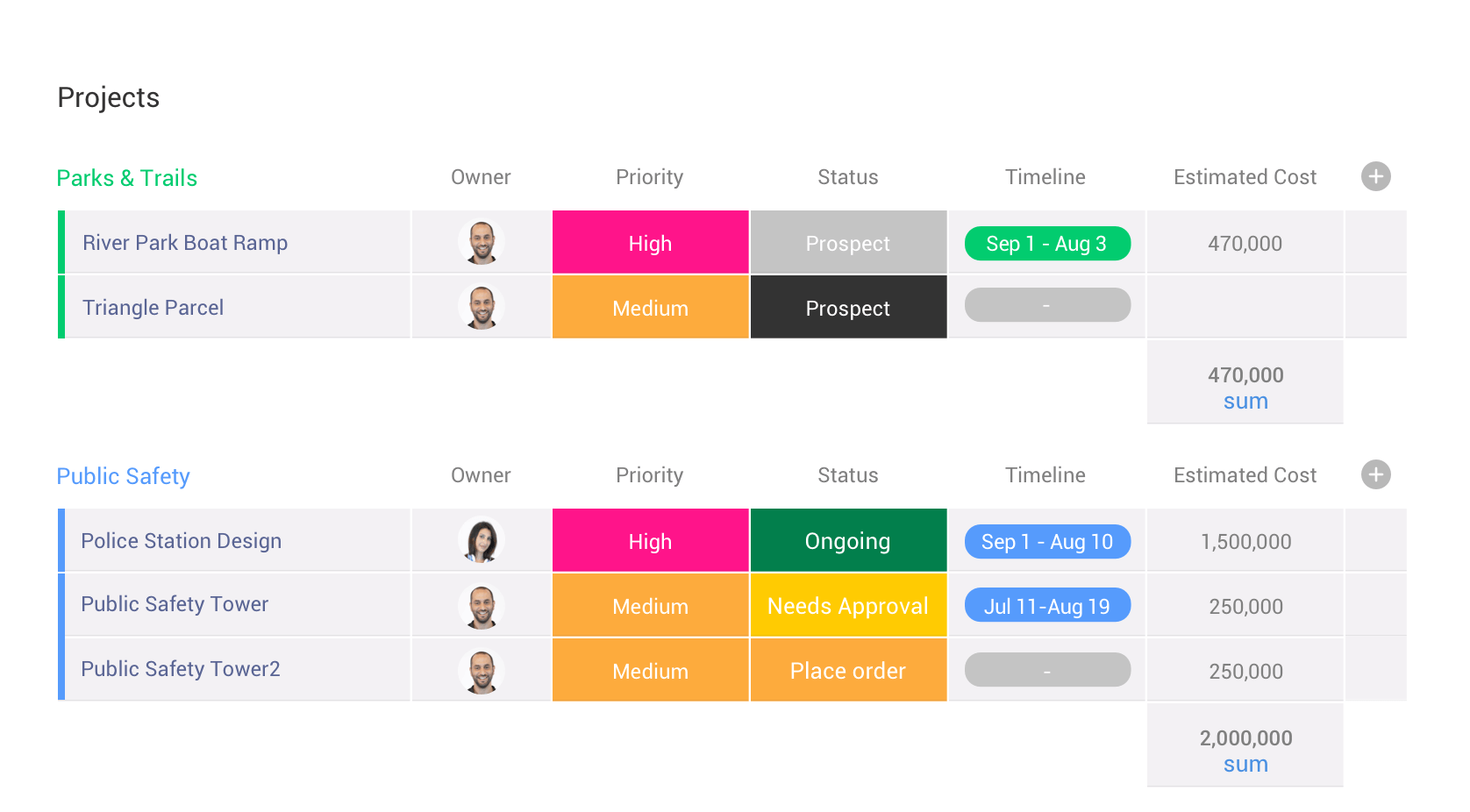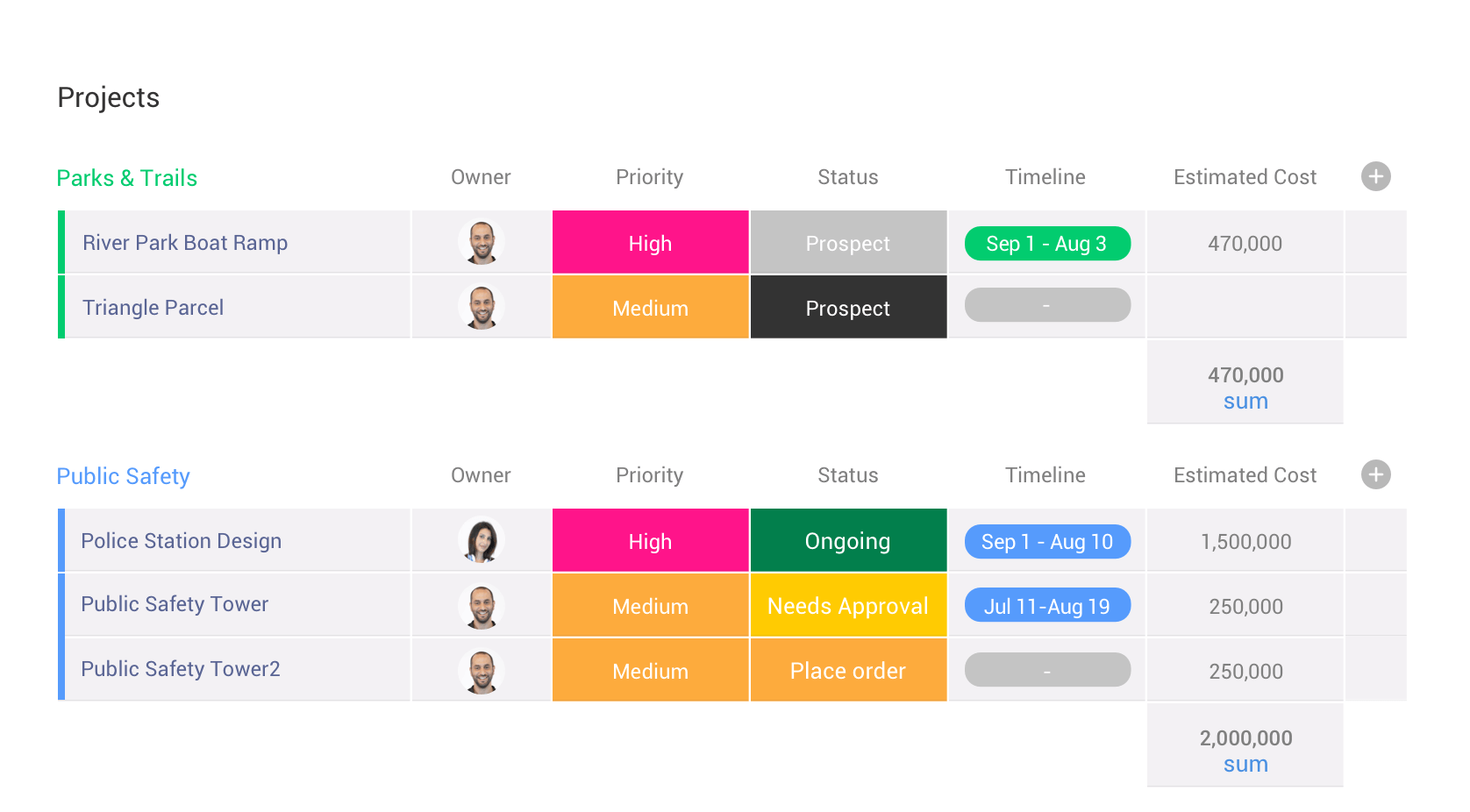 Monday.com is a simple but intuitive tool that enables people to manage work, meet deadlines, and build a culture of transparency. The solution is best for streamlining discussions, to see who is working on what, and keeping everyone in the know.
Features:
Centralized communication and document management
Visual project management and tracking
Analytics and reporting are well-executed
Smartly integrated with Dropbox, Zapier, Google Drive, and similar sharing and management tools
Pricing: Monday.com offers a free trial. The Basic plan is priced at $25 per month billed annually.
32. Wrike

Wrike is a robust and versatile tool that helps team collaborate better and communicate with greater transparency. Wrike has plenty of best-in-class collaboration, communication and document management tools. The tool allows to set priorities and align your team to work faster and smarter.
Features:
Tasks and milestones can be synchronized to Google, iCalendar and Outlook calendars
Gantt charts help create visual timelines
Helps you to turn strategy into an actionable plan
Provide accurate and up-to-date info to clients
Pricing:  Professional Package – $9.80/user/month (billed annually)
33. Asana

Asana is a cloud-based project management software that helps teams to map out every single detail of projects within an organization. Asana enables you to plan your work in a way that's best for you. It is flexible enough to adapt to you.
Features:
The free tool offers a basic dashboard and search
Group tasks into sections or columns in a list or board project
Notify employees using a personalized inbox
A Gantt style view of how projects fit together
Schedule and prioritize tasks on a special Asana calendar
Generate detailed Progress reports
Pricing: Asana offers three tiers of pricing: Free, Premium and Enterprise. The premium plan starts at  $9.99 per member/month.
If Asana doesn't come out to be your cup of team, you can pick any best Asana alternative.
34. Podio

Podio is an extremely versatile tool. More than 500,000 organizations use Podio to run projects. It is built with a series of app and tools that help teams organize tasks and track their work.
Features:
Break down large projects into simple to-do lists with assigned tasks
File uploads, progress statuses, updates, and comments done in real time
Real-time comments and deadlines are all laid out on one dashboard
Integrates with file sharing services, customer support, and help desk tools
Visualized reports to mark team's progress
Pricing: Podio offers varying pricing tiers, which are priced per employee per month. Premium plan available at $24.
35. Project Insight

Project Insight is a simple and user-friendly interface that fits any team and project size. It offers notable integrations with Box, Microsoft Office, Microsoft Outlook, and Quickbooks. It comes with a simple and user-friendly interface. Users can track all steps of their projects from start to finish.
Features:
Real-time reports and manages projects from a single location
Time and expense tracking, resource management, and more
Real-time access to their tasks and project schedules
Balance resource work across all projects
Pricing: Business plan starts at $45 per user per month.
36. Teamwork Projects

Teamwork Projects is designed to work seamlessly with the tools to form smarter workflows.  With a perky interface, easy-to-use toolset, users can create a project, and generate tasks and milestones. Teamwork Projects is available on iOS, Android, Google Chrome, and the Web.
Features:
Set start dates and end dates to your projects
Get a snapshot view of what your team is up to with the project activity overview
'Gantt' style view of your projects
Gain valuable insights on your team's performance
Assign low, medium, or high priorities to tasks
Pricing: Free 30 day trial. Pro plan is available at $9/month per user.
37. ProjectManager.com

Projectmanager.com is an online project management tool that helps users plan, track, and report on projects online. A powerful project planning and scheduling feature that allows users to manage a team of individuals, balance projects, and document effectiveness.
Features:
Attach files and comments to collaborate on tasks
Seamless importing and round-tripping of MS Project plans, Excel files & CSV files
Real-time dashboards show your status at-a-glance
Pricing: business plan with unlimited features at $25 per user per month.
38. ClickUp
ClickUp is a high-rated productivity solution helping you better manage your tasks, notes, projects, and time. The project management tool helps you figure out who's doing what and brings all your tasks, projects, and resources in one place. ClickUp lays special attention on views, statuses, features, and processes to give you a better user experience
Features:
Customize workflow with stages to keep people on the same page
Create spaces to organize work with customized features, workflows, tags
Add time estimates for automatic scheduling
Control what others can see and what they can do
Make goals and track their success  
Pricing: $4.99 per user per month
39. EventCollab
EventCollab is a web-based application which focuses on event project management and logistics tracking. Whether it is about contacts, data, tasks, schedules, calendars – you can securely manage everything in EventCollab. The interface is easy to navigate which makes managing complex tasks easier than ever. EventCollab uses a variety of technologies to create effective solutions for project and event management.
Features:
Access projects in real-time
Keeps track of the details and connects team members
Restricted permissions, role settings, and data encryption
Available in the cloud at any time from any location
Pricing: From $20 per month
40. Advantage
Advantage software is a management tool best suited for business agencies and marketing companies to manage the business side. It successfully integrates all agency roles into a single solution with robust modules, powerful features, and extensive reporting. It automates all facets of project management, proofing, billing, client relationship management. The good news is that it works well for medium to large agencies.
Features:
Automate and manage projects more efficiently
Streamlined processes to manage time, tasks, and expenses
Complete reporting and forecasting
Share files and collaborate
Pricing: Upon request
41. Redmine
Redmine is an open-source tool which works cross-platform along with multilanguage support. It gives registered users the ability to create and manage their own projects meaning once you have registered, you are allowed to create your own projects and get access to their features. Being a free downloadable software, it is definitely worth a try.
Features:
Multiple project support
Role-based access control
Custom fields for issues, time entries, projects
Gantt chart, calendar, issue-tracking system
Pricing: Free
42. Nutcache
Nutcache brings the best of Agile workflow to manage to plan, track, and organize your projects and tasks better. It provides you with all the tools required to complete the project delivery lifecycle. It is trusted by 1,30,000+ companies worldwide to meet their deadlines. With its agile planner which allows you to see at a glance what others are working on.  
Features:
Assign cards to manage priorities
Set milestones and alerts to never miss a deadline
Bill time and expenses accurately
Customizable workflows and well-organized tasks
Pricing: $15/user/month
43. Notion
Notion is an all-in-one workspace where you can write, plan, and collaborate. Unlike traditional tools for project management, Notion has a modern feel both in its looks and features. It is being used to plan and discuss projects, communicate with teams and clients, and keep track of all the important stuff. Notion keeps records of everything and captures unique workflow in the best possible way.
Features:
Outline ideas and rearrange them in any way
Syncs across various devices and collaborators in real-time
Works in the browser and runs offline with the Mac, Windows, and mobile apps
Pricing: Starts at $4 a month
44. Paymo
Paymo is a full-fledged task management software helping teams to work better with advanced proper planning, scheduling, task management and time tracking features. It's a great tool to bring everyone together and on the same page. Whether you're a part of a creative, marketing, web designing, business consulting team, Paymo lets you work in harmony and help you manage work faster and better.
Features:
Advanced task management tools, Gantt charts and Kanban boards for accurate planning and scheduling
Discussions and comments for real-time seamless collaboration
Compare initial time estimates against actual work
Customizable time and work reports
Pricing: Business plan starts at $15.16/user/month
45. Cage
Cage is a media collaboration software best-suited for designers, creative agencies, and in-house teams. It lets you collaborate with your team directly on the work enabling you to deliver work on time. With its advanced toolkit, you get to gather, discuss, and act on feedback faster. You can also manage projects, teams, and communicate at a single place. It's also quite effective to get a clear picture of ongoing projects and how your team is performing.
Features:
Add annotations directly to images, video, audio, PDFs
Share design decisions, customize color palettes and layouts
Record different work in progress
Pricing: Professional plan for $14 per user per month
46. Avaza
Avaza is productive solution that teams use to collaborate on projects, schedule resources, track time, m
anage expenses for a more efficient business. It helps you get more done faster with quick file-sharing, activity feeds and more. You get to see a bird's eye view on who's working on what and manage work assignments and make smarter scheduling decisions.
Features:
Visualize, filter, and group tasks within and across projects
Flexible project budgeting and billing options
Easily manage resource allocated to each project
One-click time tracking from every screen
Pricing: Basic plan starts at $19.95 per month
47. Dropbox Paper
Dropbox Paper launched by Dropbox is a new way to collaborate, organize teamwork and work from anywhere. It is a collaboration app that runs on shared Dropbox space to collect ideas, create documents, chat, and keep everything together in one place.
Features:
Help teams collaborate in a distraction-free environment
Keeps people in loop with real-time collaboration
Link your Google Calendar or Microsoft Office 365 account
Visual representation of whatever is happening
48. Evernote
When you're planning a project, having all the information in one place makes it easier to keep things organized. Evernote is an app for all your needs of taking notes, making lists, reading content online, and having to look up something that you've written before. Keeping everyone on the same page will always make sure that you focus on what matters as projects from start to finish.
Features:
Set reminders, track deadlines, and gather feedback
Save important emails
Stay on schedule with checklists and reminders
Add keyword tags on notes to find it quickly
49. Todoist
Todoist is a customizable solution to meet project management needs of small and midsize businesses. It is a powerful task manager loaded with great features to boost productivity as well as organize tasks and set schedules.
Features:
Capture and organize tasks with Quick Add
Measure your progress with visualization
Email tasks and subtasks directly to your inbox
Sync across all your devices and integrates with all your favorite apps
50. TimeCamp
Time Camp lets you easily track the time spent collectively on each project to keep the team's work under control and communicate with them efficiently. The tool allows its users to manage unlimited projects and customers without any additional costs.
Features:
Track the progress and detect possible delays
Collect valuable information about how much time tasks take
Plan the work of your team
More precisely estimate time needed to do a particular type of task
Bill your clients accurately
51. Confluence
Confluence helps you manage the details of all your projects. Atlassian's Confluence  provides powerful tools for teams to collaborate, complete projects, and review task.
Features:
No more separate documentation process
Powerful task management to assign a tag, assignee, and due date
Organize, track, and review decisions
Hassle-free file sharing
Conclusion
With the changing times, the needs of businesses are changing as well. Spend a good amount of time to figure out if you need an invoicing tool, robust reporting software, or a holistic view of projects and processes at one place.
We hope that the above list would serve the purpose and provides you a list of top project management tools to be used in 2020. If you think, we have missed a tool that could make a difference in your life, don't forget to drop your comment below.
What are project management tools?
Using project management tools is an effective way to deliver projects on time and organize tasks. It is the way to track progress and manage time for successful projects.
What are the top features in project management tools?
Some of the key features are collaboration, task management, file sharing, reports, Gantt chart, & Kanban. To a great surprise, this is all that ProofHub has and a lot more.
What is the best project management tool in 2020?
ProofHub is the most highly rated project management tool today. It is ahead of the rest as it gives all the features at a great price for unlimited users.
How much does a project management tool cost?
Different project management tools have a different plan for everybody but the one like ProofHub has a plan that is available for unlimited users when you pay once.
Vartika Kashyap is the Chief Marketing Officer at ProofHub and has been one of the LinkedIn Top Voices in 2018. Her articles are inspired by office situations and work-related events. She likes to write about productivity, team building, work culture, leadership, entrepreneurship among others and contributing to a better workplace is what makes her click.